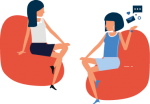 The Impactful Leader PQ Mastermind
Confident leadership without the imposter or threat of burnout!
As a woman at a senior leadership level, you face a unique set of challenges.  You may regularly be the only woman in the room, you may feel under pressure to perform at a higher level (and work long hours to prove yourself), you may struggle to delegate…and you don't switch off until your holiday is nearly over! 
You know that you got the role because you deserve it and you're amazing, but the pressure is on to deliver, and your tendency is to work like crazy to make it happen. Plus maybe your inner confidence isn't quite as high as the image you're able to portray.
I've stepped up so that means I need to do more, right? I need to show I'm worth it. I'll just get the head down and make sure everything is running like clockwork, then I can take my foot off the gas.
It's an easy trap to fall into…that need to prove yourself
BUT…You deserve to confidently step up your leadership impact, without overperforming and causing yourself stress.
What if you could maximise your impact AND results, whilst REDUCING your stress. Lead with ease, navigate the Leadership Team relationships, perform at your best without the self doubt.
Imagine feeling confident to the core in your leadership style and approach.

Having the answers to the trickiest challenges of dealing with other people

Being self assured in the boardroom, influencing key decisions
Your presence and gravitas translates into a leadership style that delivers at every level.
This is a programme for women leaders unlike anything else out there. It is a transformational experience that is designed to take you, your self-belief, and your impact as a leader to a whole new level.
It's dynamic, action-focused, and no you won't get this from a book or a course! You get the right help and support right when you need it. Have a safe space to sound out your ideas. Basically have a place to go with the things that make you think "oh crap, what do I do about…?"
It can be lonely when you get to your level, and it's likely you're one of few women there. You've got there through hard work, and probably overcome more than your counterparts to make it. This should be a time when you get to love where you're at and the impact you have.
The Impactful Leader PQ Mastermind blends the best of my Executive Coaching experience with a peer support network invested in your success. It's like having your own personal board for YOUR career and leadership strategy.
You define your goals and we work together to make them happen. There are 3 key ingredients:

The mastermind will kick off with a 6-week intensive of Positive Intelligence with Shirzad Chamine, facilitated by me, designed to increase your mental fitness. What is mental fitness?
Well, when you're physically fit, you can climb steep hills without physical stress. If you're mentally fit, you can handle life's great challenges without mental stress or other negative emotions.
This measure of your Mental Fitness is called PQ (Positive Intelligence Quotient). Research with 500,000 participants has shown PQ to be the best predictor of how happy you are and how well you perform relative to your potential. You'll also be happier and perform better!
You can read more about the PQ programme here and as your PQ coach I will help you make the most of this opportunity.

This is not your average development…through a combination of masterclasses and mastermind sessions we will grow your leadership capability and impact through real-life examples and application.
We meet twice a month (via Zoom) for a masterclass and a mastermind session.
Mastermind sessions are where you… bring your challenge and take a turn in the hot seat to get coaching and advice from other women who understand what it is to be a leader at your level. From how to win over that tricky CFO to how to deliver bad news, we will deal with any situation you're facing. It's an opportunity to learn and grow from the entire group using real situations, with me as your facilitator and leadership coach
Masterclasses are where we… focus on a specific leadership topic to help you grow your style and knowledge.
A mix of guest experts and sessions led by me, we will cover topics such as…
Maximising your leadership impact and owning your style

Defining your career direction and trajectory

Coaching for results – l

istening, asking great questions, maximising growth

Navigating and developing strategic business relationships (delivered by Lisa Strutt)

Refine your presence, deliver your message, and maintain your composure in any

situation from radio interview to boardroom (delivered by Lindsey Armstrong)
Conflict resolution and tackling the challenging conversations (delivered by Dorcas

Crawford)
We will also be joined by inspiring leaders throughout the 6 months, ready to share their knowledge and experience through a cosy Q&A.

Maybe you have a challenge or opportunity that you want to maximise, you can drop into my monthly leadership clinic (via Zoom) with your questions, get feedback on your strategy, or develop your approach with my help.
Also we have an online forum (likely WhatsApp) where you can get real-time support from your peers and stay connected.
Plus 3 one-to-one coaching sessions
Session 1 – We'll identify your goals and define what you need and want to get from working together, to make sure you get exactly what you need from the programme.
Session 2 – Our mid-way check-in to make sure your goals are on track and make any adjustments needed. As you've developed over the first half of the programme, you may need to alter your goals to adjust to the new you.
Session 3 – After a quick review of the programme to be sure you got what you needed, we'll make a plan so you can make everything you've learned, and the skills you've acquired, a part of your everyday life going forward.
Is it time for you to level up your leadership thinking? Own your position? Take the opportunity to move your goals from thought to action?
Imagine walking into the boardroom feeling confident to deal with anything, even the unexpected. Being equipped to manage your trickiest manager without stress. Or at
ease with inspiring your team to take positive action.
You define it and I will help you make it a reality.
Let's take this step together to develop you as a great leader whilst making connections that will benefit your career and work life for years to come.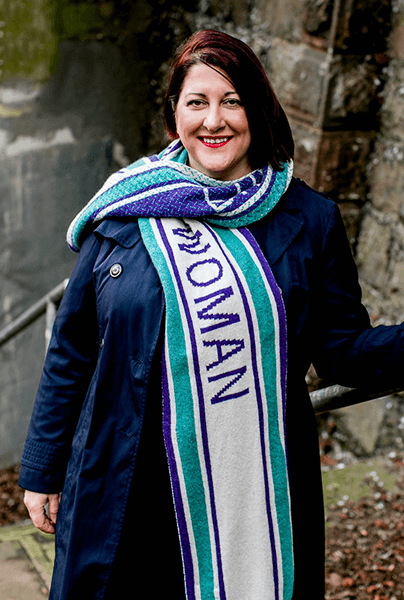 Sinéad Sharkey-Steenson is the founder and Managing Director of Generation Women; an organisation focused on developing women to achieve career and leadership success.
With close to 20 years' experience in leadership development, facilitation, and coaching, Sinéad left a successful corporate career in global manufacturing organisations, where her focus was developing transformational leader, to focus exclusively on working with women to excel in the workplace.
Since launching Generation Women she has worked with over 5,000 women to develop their careers and leadership skills, and with some of the biggest global companies.
Clients have included; Citi, Deloitte, Oracle, Sensata, and Lean In. Sinéad holds a BA Hons Psychology, MSc Computing and Information Systems, MSc Human Resource Management, is a Lean Six Sigma Master Black Belt, an NLP Master Practitioner and an ICF Accredited Coach.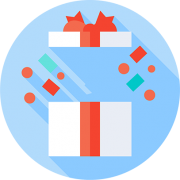 £4,495 (+VAT)
for the programme
OR 6 monthly payments of £832 (+VAT)
If you want to make sure you make the most of the opportunity you can also take the VIP option which includes an additional 4 hours of one-to-one coaching sessions to fast track your success.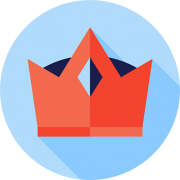 £7,995 (+VAT)
for the programme
OR 6 monthly payments of £1,465 (+VAT)
FREQUENTLY ASKED QUESTIONS
How can I be sure about confidentiality and trust between the group?
Each participant will be asked to sign a legal agreement about maintaining the confidentiality of the group. Plus as a group we will create a charter of agreed rules of engagement to ensure that the importance of confidentiality and key behaviours are agreed to. Also all participants only obtain a place on the programme after an on-boarding discussion with me where key issues such as this will be discussed.
What level is the programme aimed at?
Women with leadership and influencing responsibility. Many organisations have different terminology but broadly speaking you will; be a leader in your organisation, have responsibility for others, be involved in senior-level decision-making, work with the most senior levels of your organisation or be on the leadership team.
How long is the programme/ How many sessions/ How much time?
The Mastermind runs for a six month period. There will be a 2 hour online session every other week (time to be agreed with the group – potentially Thursday/ Friday afternoon). On the weeks where we don't have a call I will hold the clinic session which is there for you to drop into as and when needed.
This is an online programme so calls will happen via Zoom. Masterclasses will be recorded so that even if you can't make a session you never miss it. With the agreement of the group, the mastermind sessions can also be recorded.