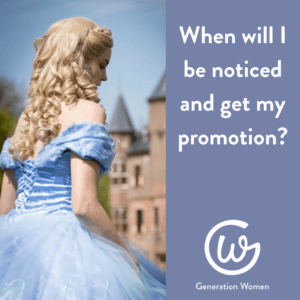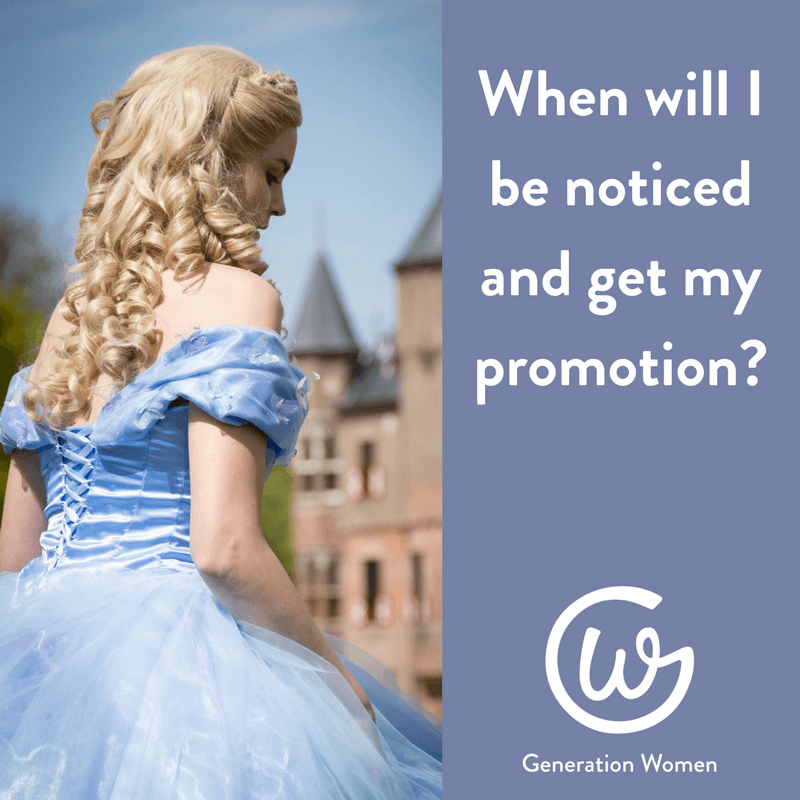 Have you ever felt like your career has stalled?  Or it's chugging up the hill so slowly that you can barely feel it move? Do you ever ask yourself "What can I do to improve promotion prospects?"
I often hear women saying 'I should be further than this by now'.  I remember starting my first graduate job in a large company.  In my naivety, I think I thought I'd be CEO by the time I was 30.
I wasn't just oblivious to the amount of time it takes to learn and to work your way there, but I was also clueless about what you can do to really help yourself.
Cinderella Syndrome
I now realise I suffered from Cinderella Syndrome, and maybe you do too?  Waiting for someone to notice how amazing I was and sweep me off into senior management!
After a while I realised, it just doesn't work like that.  It's not our fault, women are conditioned to be modest.  Keep your head down, don't ask for too much, don't appear too full of yourself, and somehow expect your hard work and efforts to be rewarded.
"Your playing small does not serve the world. There is nothing enlightened about shrinking so that other people won't feel insecure around you. We are all meant to shine."(Marianne Williamson)
This isn't serving you or the business you're in, so enough!  It's time for you to stand up, take control, and show the world what you're capable of.
7 Ways to Standout and Improve Promotion Prospects
Of course, there is lots you can do, and below I'll share with you 7 areas to focus on to make sure you standout:
1. Personal Brand
What do you want to be known for? And how are you putting that out there?  If you want to stand out it's important to spend time thinking about your brand.  It's how you are the name at the front of everyone's mind when your perfect project comes up.  Think about how you use opportunities to put it out there.  Essentially every interaction you have is an opportunity to strengthen your brand identity.
2.Performance Review
Most people mistakenly get their objectives, put them away in a drawer, and don't think about them again until their performance review comes around.  Don't get me wrong, they're getting on with their job, but that's it, they're missing the opportunity to really step up.  You want to make your superior performance and inevitability!
3. Networking
Most of us know, in theory anyway, that our networks are important.  There's a danger, especially in large organisations, of taking things for granted.  Your network isn't the number of connections, but the quality of relationships.  When you build great relationships that you nurture, then you will get so much in return. It may even directly improve promotion prospects. If you think about what you can give and do for others, you build much more authentic bonds with people.
4. Manage upwards
This can have a bad name, because people may mistake it to be manipulative.  No, this is about communicating efficiently in a way that works for your manager, anticipating issues, being proactive, and generally understanding their needs.  What you're doing is making your area of the business look its best by performing at your best.
5. Sit at the table
There was a point in my career where I was getting really frustrated with not being noticed and not being involved.  My manager then (a man of course), said 'just start turning up at the meetings you want to be involved in', after that, it wasn't long before I started to get invited and was then considered a key player…a promotion soon followed.  If you're not there, how will you be noticed?  It may not work in your company culture to just turn up, but how can you get a seat at the table?  How can you show you will be a valuable addition to the team?
6. Presenting
This is the number one way you can advertise how amazing you are at what you do.  There's something useful to remember, most people aren't fans of public speaking, so when you volunteer and get good at it, you stand out.  Then it's an opportunity to get your message out there.  It's your platform to let people know what you're great at.  If it's not something you're good at, get help (I'm sure I can point you in the right direction).
7. Create opportunities
When you've thought about your personal brand, it's really time to get your strategic head on and look for the scope for what opportunities there are for you to add value in your organisation (or outside).
If you're ready to get the help and support you need to make these changes and improve promotion prospects, schedule a FREE career clarity call and see how I can help you Elevate your Career!